This page is dedicated to information related to lift chairs and their advantages which may benefit certain people. If you believe a lift chair could benefit you, you've come to the right place.
---
Welcome to our Lift Chair Blog! On this page we will be discussing lift chairs in depth and explore different options that may be a benefit to a variety of different people. First, let's ask: what is a lift chair? A lift chair is a recliner sofa chair that's powered by a patented lifting mechanism. This mechanism allows the user to be reclined to the desired position as well as lift them up and out of a seated position. These chairs come in many different sizes and can include additional options such as heating or massage. There is also the option of choosing a fabric that fits your style and fashion. A guide for lift chairs can be found here. Now you may be thinking, "this recliner chair sounds like a cool product, but why would anyone need something like that?" We're glad you asked.
---
The Reasons
There's several reasons why someone may need a lift chair. The most common reason for someone needing a lift chair is their inability to lift themselves out of a chair. Whether that's due to general weakness or arthritis, getting out of a chair (or even their own bed) can be much more tribulating when compared to someone who has the ability to get up by themselves. Other reasons that may inhibit one's ability to stand could include, but are not limited to, recovering from certain invasive surgeries such as hip replacement or knee surgery.
If you suffer from a disease or illness that hinders your ability to stand or at the very least requires you to have someone assist you in standing, a lift chair could be the product you need. Someone with circulation issues may also see the benefits of having a lift chair. Due to the way a lift chair reclines, your feet end up slightly raised above your heart making it easier to circulate the blood from your toes to the rest of your body.
---
The Benefits
The number of benefits a lift chair can provide isn't incredibly overwhelming, however, what is overwhelming, to say the least, is how impactful those benefits are to those who truly need lift chairs. As we stated early, one of the benefits these automatic recliners provide is the ability to improve circulation. As you recline back into your chair, you may notice that the position of your feet may also be raised slightly.
This is so that the blood from your feet is pushed back to your heart more easily with the help of gravity, therefore, allowing your heart to produce less effort while pumping your blood to the rest of your body. Another reason why your feet will elevate slightly is to reduce swelling in your legs and feet. This can help those suffering from Edema by reducing the excess fluid build up in your legs and feet.
Other benefits you'll feel with lift chairs is the decrease of pain experienced from arthritis. This one is pretty simple and maybe a little obvious. If you have arthritis in your joints, also known as osteoarthritis, you'll know that getting up out of a seat or even standing from your bed can be rather painful if you don't have proper assistance. Sure, you could rely on a family member or a close friend to help you up, but why not take back your independence with a lift chair? Lift chairs can do more than just recline into a position that is perhaps way too comfortable (as if you could have too much comfort). They're called lift chairs for a reason, right? That's exactly what they do.
Not only do lift chairs help you gently move to a standing position, but from this lifted position you naturally have an easier time getting into a seated position. Just use your remote that connects directly to the lifting mechanism (or your wireless remote if you want to be fancy) and press the recline button until you've reached your desired position. This is also a great way to remain independent, especially when no one is around to help you up.
This last benefit is perhaps the most impactful as well as the reason why so many people are grateful that their loved ones have a lift chair. Lift chairs reduce the chance of injury. This is true regardless of your reason for owning a lift chair. Whether you need one because you have chronic knee pain from osteoarthritis or just need some extra assistance getting to a standing position, the fact remains that it is safer to slowly transition into standing than trying to put unnecessary effort in getting up.
Lift chairs allow this grace by gently putting your feet on the ground and moving your knees from a 90 degree angle to almost entirely straight. In turn, this creates significantly less struggle for the user because the hard work has already been done. All you have to do is simply support the rest of your weight and start walking.
---
Features & Fabrics
A lift chair wouldn't be yours unless you had control over what it looked like and how it felt. Fortunately, we can give you that luxury and more. The first choice you'll have to make is how large (or small) you'd prefer your chair to be. Typically, you'll see small, medium, and large lift chairs, however, there are more specific sizes. These sizes can range from and be described as petite-small, small-wide, medium-wide, small-medium, and tall-wide. Whichever size you think would fit you best, there's always going to be measurements under the 'Specifications' tab on all of our product pages. Alternatively, you can come into one of our stores and try them out yourself!
Once you've chosen your desired size of lift chair, we can talk about fabrics. The fabrics that we offer come from Golden Technologies and Pride Mobility, but we'll still give you some pointers on choosing the right one for you. Another thing to note is that not all fabrics will be available in all colors so you may need to keep your mind open to the possibilities. Think about what you'd prefer when it comes to texture as each fabric will have a different feel to them as well as different benefits.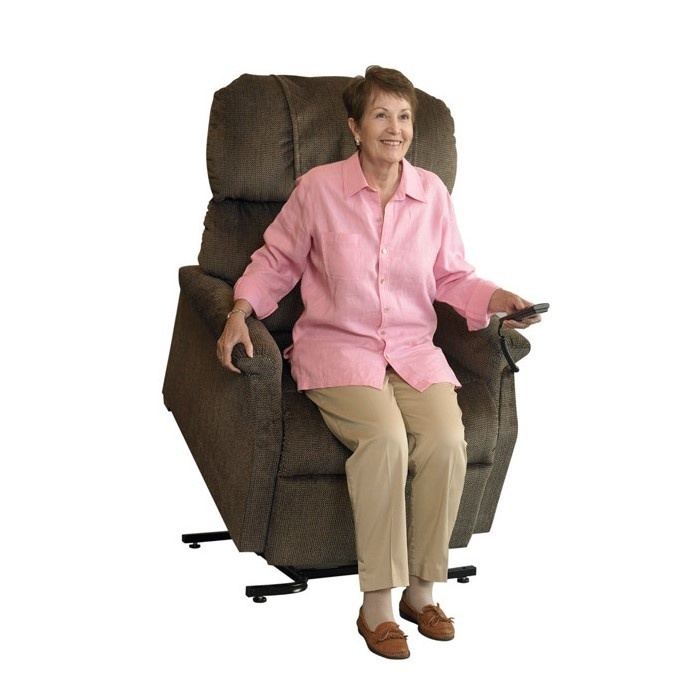 Let's talk about Golden's fabrics and what they have to offer. Golden is partnered with Ultrafabrics who produces a line of fabrics called Brisa®. These materials are available on all Golden lift chairs and offer a lifetime warranty on all Brisa® fabrics. You'll find that there's plenty more benefits than just an assortment of colors to choose from as well. Not only is Brisa a super breathable material, it is stain and scratch resistant while at the same time boasting resistance to large temperature changes that may stiffen or crack other fabrics. You also may be happy to hear that these fabrics clean effortlessly with soap and water and can lift most stains with alcohol-based cleaning solutions.
Pride's fabrics offers a slightly more strict assortment of fabrics for their lift chairs. While some lift chairs offered by Pride will only be available in a few fabrics, others will have an arsenal of fabrics to choose from.
Let's start with some of the most common optional features we can provide on our lift chairs: heat and massage. If you suffer from chronic back pain or just like a good massage once and a while, you may want to invest in the massage module that can be added to almost any lift chair in our fleet (there will be exceptions on certain chairs). Adding the optional heat module to your chair is a sure way to make sure that you're nice and cozy during the winter. This feature can also be helpful to those who are naturally cold.
Some lift chairs come with cup holders and even wireless charging capabilities. Those features, however, cannot be added to lift chairs that do not already have these built in. If you're like us and hate cords, you may be interested in the wireless remote that comes with select lift chairs. Last but not least, we'd like to mention the lithium-ion battery backup that can be added to certain lift chairs. This backup battery ensures that if your power goes out, you're still able to operate your lift chair. While the lithium-ion battery is potentially a life saver, we don't recommend solely relying on this power source.
---
Here's what our customers have to say about their lift chairs!
"With my knees the way they are, I needed something to get up. The lift chair works perfectly for me. It does the job!"
-Raymond
"I bought it for my mother and she likes the chair. It's very comfortable and it cleans up nicely. It's made very well. It's a great chair!"
-Ann
Lift chairs are life savers, literally! Everyday when someone uses a lift chair instead of an old-fashioned recliner, there's significantly less risk, and a lot more comfort involved. If you think this product may be what you need but you're still unsure about it, come into one of our locations and speak directly with our retail staff. You'll find that they are well educated about the lift chairs that we have on sale. If you'd like to see more of what we have available online, feel free to explore our website or call us if you have any questions!
---
Our Business Is Your Good Health