On this page, we'll be discussing common power mobility issues, how to fix the problems, and how to know when you need to have your device serviced.
---
Welcome to our blog about troubleshooting power mobility! On this page, we'll be discussing common power mobility issues, how to fix the problems, and how to know when you need to have your device serviced.
---
Service Codes
It's frustrating when your power chair or scooter won't do what you want it to do when you want it to do something. Don't you wish there was a way for your power operated vehicle (POV) to just tell you what's wrong? Fortunately, it can! Service codes exist to give you an idea of what might be wrong with your POV, however, if you haven't read your vehicle's manual, it can be pretty unclear what these codes mean.
The signs of a service code will be indicated usually above the power button on the controller. The controller is where the speed settings and horn are located, as well as other possible features your POV might have. The meter on your controller that lights up when you power on your vehicle is called the battery indicator. This is where you can tell how much battery life your POV has, but it's also where the service codes will be displayed.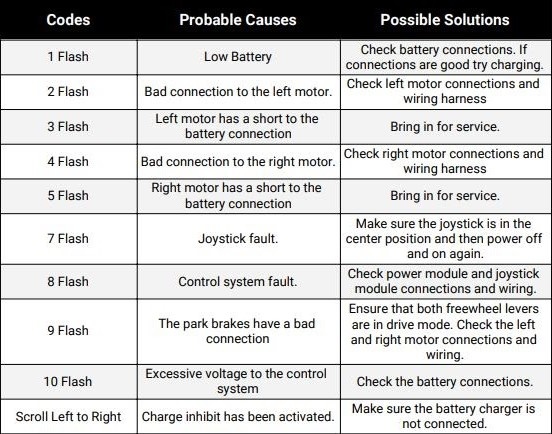 ---
Extend the Life of Your Vehicle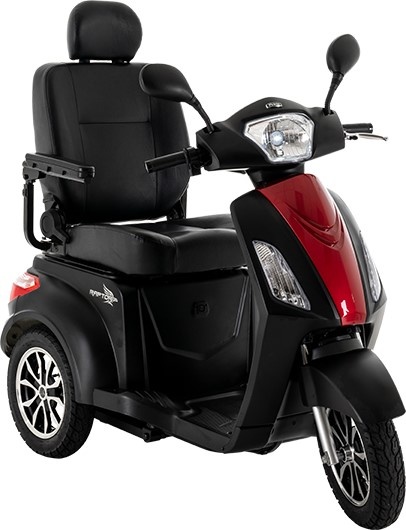 While power mobility manufacturers design their products well, they won't last forever. Fortunately, there are things you can do to extend the life of your vehicle. These are some good practices we recommend turning into habits.
Make sure your batteries are charged before using your POV daily. It is recommended that you allow your batteries to charge 8-12 hours between uses. A good way of doing this is charging your POV overnight and unplugging it in the morning. DO NOT LEAVE YOUR POV PLUGGED IN FOR MORE THAN A 24 HOUR PERIOD. This can actually damage the batteries as they are not designed for a constant charge. If you plan on storing your chair or scooter make sure it receives an overnight charge once every two weeks. This prevents your batteries from dying early. Be cognizant of smoking around your batteries as they can produce very flammable gasses. Do everything you can to keep flames and sparks away from your batteries at all times.
Store your POV in an environment without extreme temperatures. A garage that gets too hot or cold during different seasons could damage the batteries or even other parts of the motor. It may be obvious, but keep any sources of water away from the batteries when storing your POV. When you need to charge it, make sure there's no debris or dust in the charging port. This can disrupt the connection from the charger to the batteries.
Lastly, make sure you operate the POV chargers with caution and safety in mind. Always use the charger your POV came with. Don't use any charger that has frayed wiring or other visible damage. Avoid using extension cords to prevent any fires or electric shock. Never attempt to disassemble or open your battery charger. Consult your manual if you have further inquiries.
---
Troubleshooting a power operated vehicle can be troubling if you don't know what you're looking for. Manufacturers don't always make it easy either. Fortunately, by having all the correct knowledge, you can make an informed decision while trying to fix your POV. We hope this blog has been helpful and informative. If you have questions that weren't answered here, feel free to contact one of our stores, or visit one of our locations today!
---
Our Business is Your Good Health