On this page we'll be taking a look at a few of the best rollators money can buy as well as what makes them special and worth investing in.
---
Welcome to our blog about Seated Rollators! On this page we'll be taking a look at a few of the best rollators money can buy as well as what makes them special and worth investing in. We'll take the time to point out the differences so that you can be informed when making a decision on a rollator purchase.
---
The Reasons
There's plenty of reasons someone might need a rollator. Anything that may inhibit your ability to move around independently could give a good reason for having one of these devices. Among those reasons could be arthritis or general weakness. If you have a hard time keeping your balance when walking, whether you're out and about or inside your own home, a seated rollator may be for you.
There's a rollator for everyone. If you're upgrading from a standard walker, you should think about the things you may struggle with. For instance, maybe your home has narrow door frames and your current walker has a harder time fitting through them. A rollator that folds vertically, or side-to-side, as opposed to horizontally, could benefit you greatly. If this is your first time investing in a mobility aid, think about things like how much storage space you might need, or how much back support you might want when you need to take a rest. Now let's take a look at some of the rollators that we offer and how they compare to others of their kind!
---
The Nitro
The first rollator we'll look at is called the Nitro. This rollator is manufactured by Drive and designed for use inside and outside. In comparison to other rollators, you'll notice that the Nitro folds vertically instead of horizontally. This allows you to fit through small door frames with less effort and store it easily for safekeeping or traveling.
Travel with fashion in mind with the slim design of the Nitro Rollator. This rolling walker is designed with comfort as a priority as you'll be able to tell the first time you sit in it. The convenient storage bag allows you to store most personal belongings provided they fit.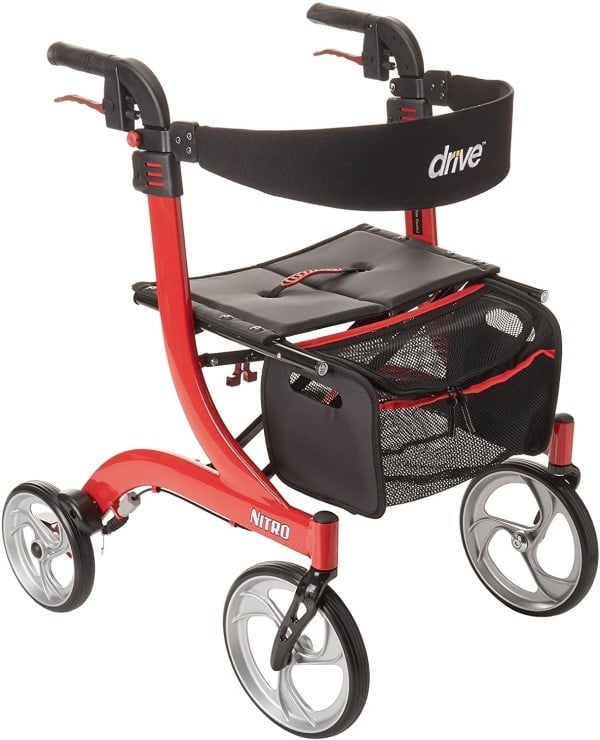 You'll find that the adjustable handles are useful for positioning your posture correctly and the large 10" front casters provide the smoothest ride you'll find on a rollator. The brake cables run along the inside of the lightweight frame so you won't have to worry about the cables getting caught on anything. With the ability to fold side-by-side, the Nitro Rollator is easily transported and stored. If you like The Nitro, you may be more impressed by The Nitro Duet.
---
The Stella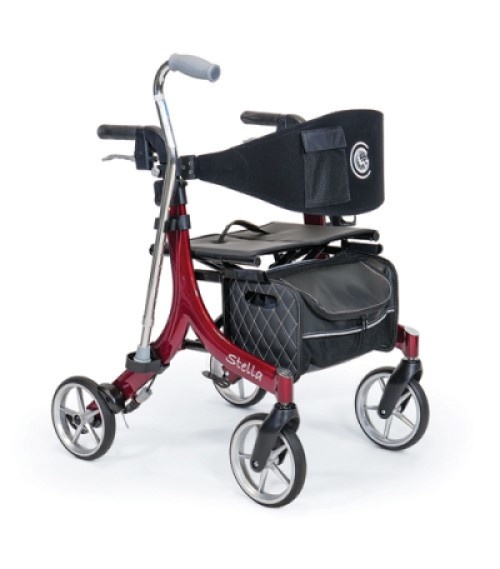 The next rollator on the list is called the Stella. This rollator is provided by Amy Systems and compares well to the Nitro. The key difference between these two is the backrest. The Stella has a significantly wider backrest which is more supportive in comparison to the Nitro. This can be very helpful for those that need extra back support while sitting.
There's a lot that's similar to the Nitro, however. For instance, the brake cables run through the frame to prevent them from being snagged on other objects. The storage bag is roughly the same size, albeit less breathable than the Nitro's bag. Both of these rollators fold handle-to-handle to facilitate navigation, storage, and transportation.
The Stella rollator is designed to help people with reduced mobility by achieving their goals and helping them complete their daily activities. Thanks to the aluminum built frame, the Stella weighs only 14 lbs in addition to all of its features as well as the oversized soft material backrest which offers enhanced comfort when seated.
---
The UpWalker
The UpWalker offers many benefits by eliminating the deficiencies of conventional walkers such as, risk of falling, incorrect posture, and lack of confidence or comfort. The UpWalker is designed to support you in a secure upright position giving you better posture so you have more confidence and less pain.
This rollator comes with a seat and a backrest to allow you to rest when you need to. Hand pegs stick out of the arm rest support bar which allows you extra support when standing from a seated position. A storage bag attaches to the seat where you can store your personal items like car keys, smart phones, or books and the brakes are designed to lock in place before you sit down. Just make sure you engage the locks by pushing the brake bar away from the handles.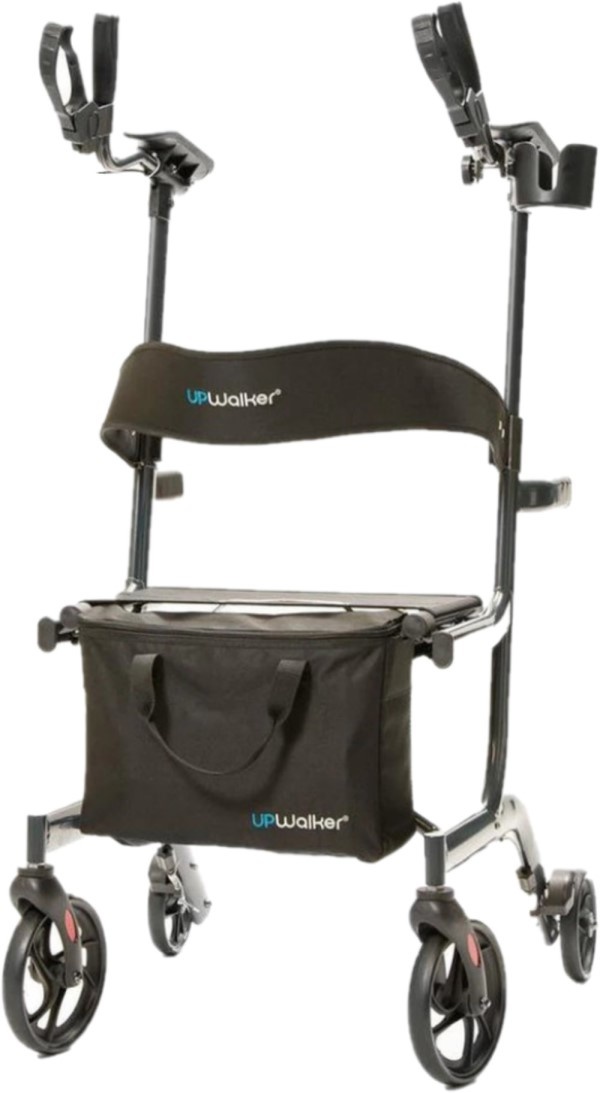 Take back your independence now! Immobility slows down and limits your activity, making you lose out on all the enjoyment life has to offer. The UpWalker may help you maintain an active lifestyle both inside and outside. Use the UpWalker for daily living, shopping, exercise, and social events!
---
These are just a few of the top rollators on the market currently. If you've found this information helpful, let us know down in the comments or come into one of our locations and tell us in person! If you'd like more information about purchasing a rollator, you can give us a call! Our staff is eager to help you find a rollator that's perfect for you!
---
Our Business Is Your Good Health