On this page we'll be exploring the details that make the VivaLift Atlas a fantastic lift chair and how it compares to other chairs like it.
---
Welcome to our blog about the VivaLift® Atlas Lift Chair! On this page we'll be exploring the details that make this a fantastic lift chair and how it compares to other chairs like it.
The Atlas Collection by VivaLift® provides comfort and relaxation that is fully customizable to meet your standards. This chair includes an easy-to-use remote with soft-touch buttons that adjust each function independently. Enjoy a beverage with the accessible cup holder. The Atlas collection offers an array of elegant fabrics with contrast stitching to complement any living room or family room.
---
Features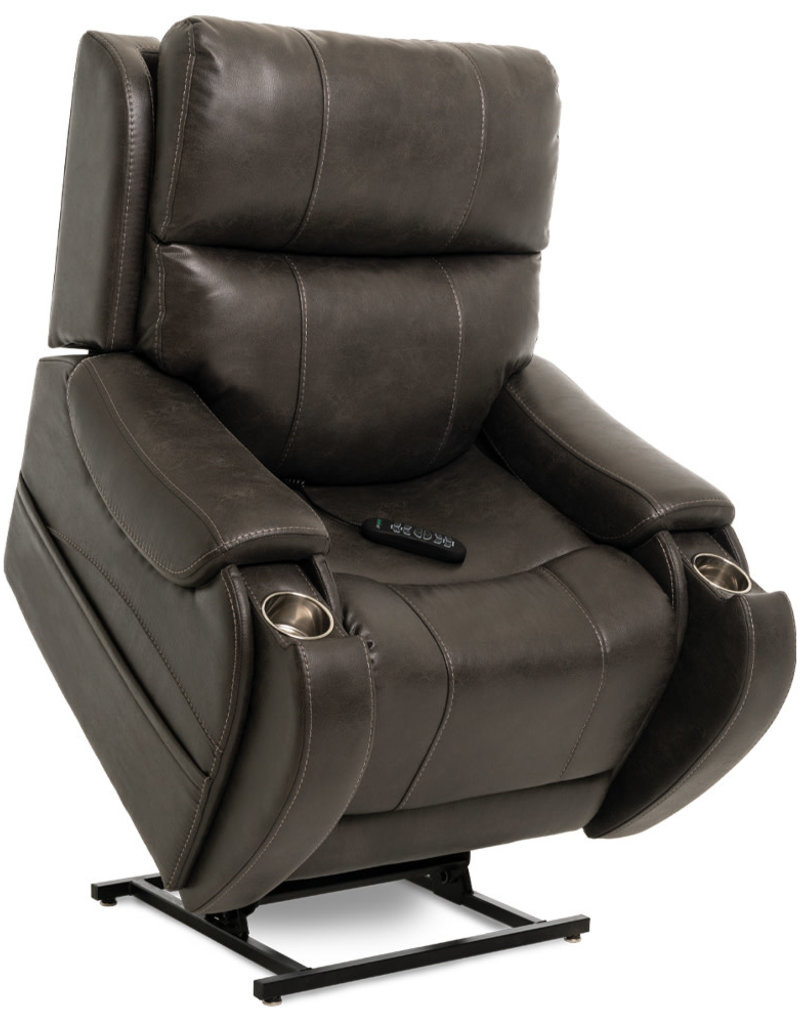 The Atlas has several standard features as well as some features that are unique to this chair specifically. Some of the standard features include the power headrest, power backrest, and power lumbar. All of these features are powered by the motor which allows the chair to lift and recline. That means you'll have total control over those functions via the remote that the chair comes with.
The VivaLift® Remote is specially made to allow complete control over all functions of the chair. The power functions aforementioned above have specific buttons so that you can select your desired degree of support. You may also notice the soft-touch buttons and how satisfying it is to push them while adjusting your seating position.
Another feature that may not be immediately apparent is the two cup holders which are installed just in front of the arm rests. These useful cup holders slide into the chair when not in use and are made from metal to avoid spills from causing unwanted stains.
The last feature that we'll mention is the lithium-ion battery backup. This feature is potentially life saving as it ensures that all the functions of your lift chair retain power during an outage. Although the battery does supply power to the motor, it is not recommended to solely rely on this power to operate your lift chair.
---
Fabrics
This is the standard list of fabrics for the Atlas. The available fabrics come in three different colors and textures: Walnut, Mushroom, and Steel. Unfortunately, these are the only available fabrics that we can provide for this lift chair.
The Badlands Steel fabric, which is shown above, is a vinyl type fabric with a subtle glossy and smooth texture. Because of the nature of this fabric, it may be slightly more resistant to stains and will be easier to slide in out of the chair itself.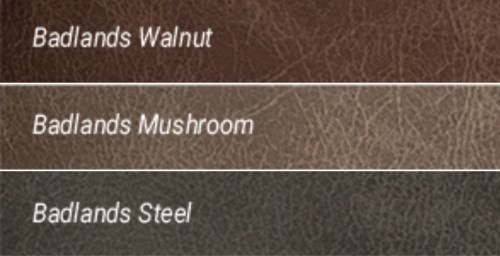 The second fabric available for the Atlas is called Mushroom. This fabric has a cloth-like texture and appears as a nice tannish brown that could complement any earthy looking living room. In comparison to the Steel fabric, this choice of fabric may grip better and provide a more secure seating position than its counterpart.
The last fabric that we'll discuss is called Walnut. The Walnut fabric is similar to Mushroom in that the texture is cloth-like, however, the color of the fabric appears as a darker, warmer brown. This fabric would complement almost any living room color scheme assuming brown is a recurring theme.
---
The VivaLift® Atlas is a quintessential lift chair provided by Pride Mobility. With its extra features such as the power headrest, backrest, and lumbar support, not to mention the built-in cup holders that retract into the chair while not in use, you'll be wishing you had one sooner!
We hope this blog has helped you learn more about the VivaLift® Atlas and what it has to offer. Feel free to browse more of our website and explore other options and DME products that we offer. If you would like to speak to someone on our retail team about the lift chairs that we provide, stop by one of our locations, or call us today!
---
Our Business Is Your Good Health